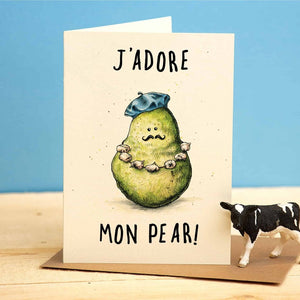 J'adore mon pear - A perfect card to send to a dad for his birthday or for fathers day. It's blank inside for you to write anything your heart desires. Hand made, a bit absurd & totally ridiculous.
Measuring: 12.5cm x 17.7cm

Bewilderbeest designs are proudly absurd & don't always make sense.
The card is slightly textured which is lovely to write on – printed on ivory hammered card stock (300gsm)Packed with a recycled brown envelope.