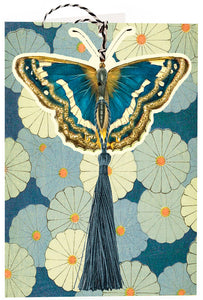 Blue Butterfly - greeting card, blank inside with a unique hanging fandangle. Hand assembled, from the Madame Treacle collection of whimsical paper paraphernalia.
Measuring: 12cm x 17cm

Madame Treacle design with a unique hanging fandangle and tassel.
Individually wrapped with an ivory laid envelope.
Highest quality natural textured 320gsm
FSC certified. Recyclable cello
Hand-assembled & hand glittered with glitter that is encapsulated & does not release into the environment.

Madame Treacle designs are created from vintage images & ephemera, inspired by French perfume bottle labels to seed packets, elegant wallpaper to railway posters.  Many different elements are reworked & recreated into bright, vibrant contemporary designs, a fusion of the old & the new.
An abundance of flora & fauna feature alongside images such as clocks, beehives & antique maps, all embracing the vast wealth of art & design in this beautiful world past & present.
Madame Treacle's Studio is a converted hayloft in the heart of the East Sussex countryside, within the South Downs National Park.