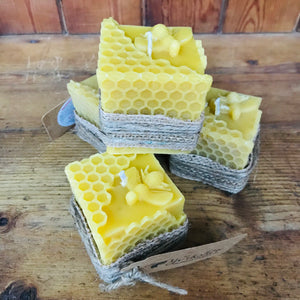 Hand created honeycomb natural pure beeswax cube candle, wrapped in hessian and ready tagged to make a beautiful fragrant gift.

The beeswax is hand filtered from hives across North/West Yorkshire to ensure all nature's healthy compounds are kept within.
Burning Beeswax has many advantages, its 100% completely natural & are hypo-allergenic and can actually improve air quality.
Beeswax helps to eliminate dust and odours including the relief and easing of allergy and asthma symptoms which improves breathing for anyone nearby.
Each candle measures approximately 5-6cm squared

Please note they candles are hand poured and rustic, colour may differ due to the wax being 100 natural and direct from our bee hives.