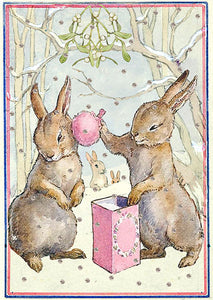 Pink Puff - Hand glittered Christmas card, blank inside from the Madame Treacle vintage collection of whimsical paper paraphernalia.
Measuring: 12cm x 17cm

Blank inside & Individually wrapped with an ivory laid envelope
Highest quality Fenner Omnia Natural textured 320gsm
FSC certified. Recyclable cello. The glitter is encapsulated so does not release into the environment.
Madame Treacle designs are created from vintage images & ephemera, inspired by French perfume bottle labels to seed packets, elegant wallpaper to railway posters.  Many different elements are reworked & recreated into bright, vibrant contemporary designs, a fusion of the old & the new.
An abundance of flora & fauna feature alongside images such as clocks, beehives & antique maps, all embracing the vast wealth of art & design in this beautiful world past & present.
Madame Treacle's Studio is a converted hayloft in the heart of the East Sussex countryside, within the South Downs National Park.