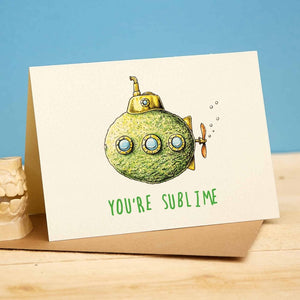 You're Sublime - Send as a birthday, valentine or greeting or perfect to send to someone to congratulate them or just to tell them they are they are sublime! The card is blank inside for you to write anything your heart desires. Hand made, a little bit absurd & wonderfully ridiculous.
Measuring: 12.5cm x 17.7cm

Bewilderbeest designs are proudly absurd & don't always make sense.
The card is slightly textured which is lovely to write on – printed on ivory hammered card stock (300gsm)Packed with a recycled brown envelope.